Residential HVAC Solutions
Professional HVAC Services for Residential Environments
If you should ever require emergency service, New Age Heating and Air Conditioning Residential Heating Company Salem NH, will respond to the call with a well-trained service technician. Our HVAC service department take pride in delivering customer satisfaction.
Residential HVAC Installations
New Age Heating and Air Conditioning provides quality residential equipment installations to fit any budget. Regardless of the scope of the project, New Age will help you select a system that fits your home, your heating and cooling needs, and your budget. With every project, we guarantee our work to be cost-conscious, efficient, and timely, and a free maintenance package including scheduled inspections is provided.
Residential HVAC Maintenance
In addition to emergency service and installations, we offer comprehensive maintenance programs to prolong your HVAC equipment's performance. Regularly performing scheduled Preventative Maintenance on your HVAC equipment is a proven method for reducing untimely and costly mechanical failures. Our preventative maintenance programs are fit to meet your family's needs.
Why Preventative Maintenance?
To guarantee fewer breakdowns
To provide you with discounts on labor and materials
To help lower operating costs
To protect your investment by extending the life of your equipment
To ensure you that we will never charge overtime fees for emergency service
What areas do we service?
We service Rockingham, NH County residents:
Salem, NH
Windham, NH
Pelham, NH
Chester, NH
Derry, NH
Londonderry, NH
Candia, NH
Plaistow, NH
Exeter, NH
Hampton, NH
North Hampton, NH
Kingston, NH
Seabrook, NH
Portsmouth, NH
Epping, NH
Raymond, NH
Rye, NH
…And more
We also service Essex, MA County residents:
North Andover, MA
Andover, MA
Haverhill, MA
Methuen, MA
Lowell, MA
…And more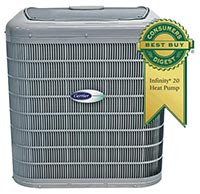 Carrier Infinity Series
Carrier Infinity Series Heat Pump with Greenspeed Intelligence
Carrier Infinity Series
The Infinity series heat pump is part of an intelligent, communicating system.
Mitsubishi Electric's MXZ-B
The Mr. Slim series from Mitsubishi Electric's MXZ-B units provide highly efficient solutions to cooling and heating needs and provide personalized comfort for the zones in which they are installed.